If you are a Videographer looking to earn an income online or leverage the Internet to help you then check out this episode.
Stock Footage – I discovered this business model by making a $90US sale on a shot from Beijing China. Most people are aware you can sell stock photos. You can do the same, but with Video Footage. For example you can license your aerial footage shot with a drone to nightlife shots done with a DSLR camera and earn from $40 to 199US a video clips. You can sell your clips on stock agencies like Shutterstock that keep a commission from 30 to 50%. Learn more about Stock Footage and which agencies to use.
Gumroad – This is a great platform that allows you to sell anything digital or service related from skype coaching to PDF ebooks. You are only limited by your imagination. You have to take care of your own marketing, but gumroad plays nice with Youtube and email marketing platforms like convert kit.
Online Teaching – I discovered online teaching while teaching English in Taiwan. Platforms like Udemy were growing in popularity with a built-in audience so I started teaching courses about Travel video, How to shoot with a gopro, how to do aerial footage, and do stock footage.

I've since published 16 courses with about 6500 students on Udemy.

With some camera and audio gear, some knowledge, and a desire to teach you can also teach online. It's a good business model that is passive income and is non exclusive allowing you to build  your own school online or host your courses on other platforms like skillshare.
check out the Episode for more ways to earn an income as a videographer

TRAVEL CREATE EARN
Subscribe for tips to help improve your ability to create and earn your time & location freedom.
What your will get:

Gear & Tools I use for my Business
Tips to Improve your Ability to Create & Earn with your creativity
Business & Marketing Tips
Destination Guides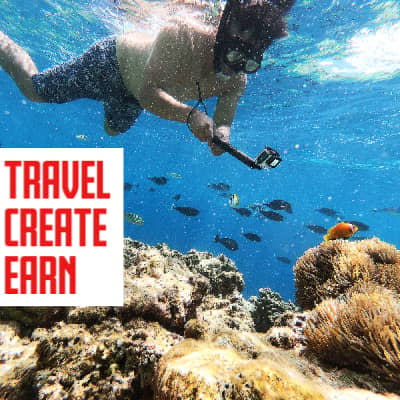 Podcast: Play in new window | Download
Subscribe: Apple Podcasts | Android | RSS