What I've learned almost 10 years as a Digital Nomad Content Creator
When I left my job in 2011 in Vancouver Canada my goal was to start a luxury travel company. In 2020 I never thought that it would evolve into becoming a Digital Nomad Content Creator or a Travel Videographer. By following my passion and my heart it led me down a pathway I would never imagine.
As a write this I'm sitting in Kuala Lumpur Malaysia. I'm listening to a midnight mix on youtube, sipping on almond milk, trying to publish my podcast interview with my Canadian friend Chris. We did this interview at his lavish 5 star condo in the city center of Kuala Lumpur. He asked me about everything about where I was from , what I studied in university, my time in Taiwan, and my goals for the next 5 to 10 years.
You can here to find out what I've learned. So here we go:
Follow you Heart and Passion
Don't rely on a single platform or stream of income
Do things gradually. Don't leave your jobs right away
If you decide to become a Digital Nomad do it from destinations that will give you the most advantage
Understand the building blocks of Content (text, images, videos)
Find-like minded people
Use the information online from youtube and on-line courses to find what works and experiment
Learn Online Marketing to Excel like Search Engine Optimization, Social Media, Email Marketing, and Sales Funnels
Please listen to the podcast if you want me to expand on these points. What I will say is that following my heart and passion for travel, video, and business led me down a path I could have never predicted. I didn't even know what a Digital Nomad was by the time I had already moved to Taiwan in 2013. I already had Macbook pro laptop and a SLR camera so I was early in the game. It is different now as there are many youngsters in the game that are excelling at what I'm doing.
Create & Earn your Freedom
Subscribe for tips to help improve your ability to create and earn your time & location freedom.

What your will get:

Gear & Tools I use for my Business
Tips to Improve your Ability to Create & Earn with your creativity
Business & Marketing Tips
Destination Guides
I'm glad I made the decision to come to Asia as this region has a lot to offer. Great weather, fast internet, great food, cheap travel costs, and like-minded people. My favorite destinations are Chiang Mai Thailand, Danang Vietnam, and Kuala Lumpur Malaysia.
TRAVEL CREATE EARN
Subscribe for tips to help improve your ability to create and earn your time & location freedom.
What your will get:

Gear & Tools I use for my Business
Tips to Improve your Ability to Create & Earn with your creativity
Business & Marketing Tips
Destination Guides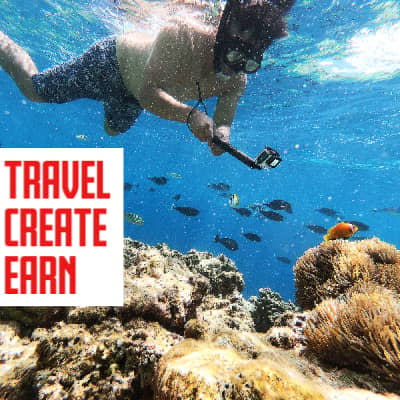 Podcast: Play in new window | Download
Subscribe: Apple Podcasts | Android | RSS