Alex Oni is a successful Cybersecurity IT Online Instructor Earning 40K during the Pandemic. He teaches his courses on Udemy and his own school. He shares his entrepreneurial journey and unpacks some of his tips for teaching online before embarking on his Digital Nomad journey.
He had amazing success in 2020 and had his all time best earning months in 2020. We are a part of an online mastermind of instructors from chiang mai Thailand where we share our experiences. Alex is having an amazing year I think in part because of his personality, number of courses, and the topic of his courses. He also good social media presence and branding on his website (Web Monkey Academy) and his youtube channel.
As someone that has been on a similar journey I think that Alex's success is a great inspiration. There are a lot of factors for success teaching online. Alex has a strong success on multiple platforms from his youtube, udemy, and his skillshare. His transition from employee to an entrepreneur is the recommend approach. He started making more courses on the side until his revenue matched his salary and started scaling his online courses. Only when he had consistent online revenue around $7000US that he started his digital nomad journey.
Listen to the interview as I try to ask questions to find out the keys to his success.
TRAVEL CREATE EARN
Subscribe for tips to help improve your ability to create and earn your time & location freedom.
What your will get:

Gear & Tools I use for my Business
Tips to Improve your Ability to Create & Earn with your creativity
Business & Marketing Tips
Destination Guides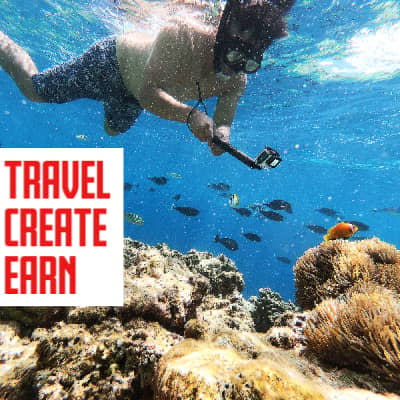 Podcast: Play in new window | Download
Subscribe: Apple Podcasts | Android | RSS